You are here
Adding Fractions
Preview: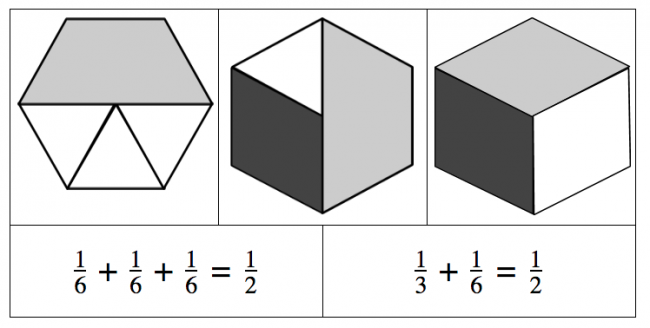 This task focuses on the relationship between the size of friendly fractions like 1/2, 1/3, and 1/6. In particular students should see that these fractions are in ratios of each other and that 1/6 is the smallest fraction with 1/2 being the largest.
Task Type:
Connecting Representations
Big Idea:
Grade 8: Number represents, describes, and compares the quantities of ratios, rates, and percents.
Grade 8: Computational fluency and flexibility extend to operations with fractions.
Content:
using pattern blocks or Cuisenaire Rods adding fractions relative size of fractions
Curricular Competency:
Reasoning and analyzing: Develop mental math strategies and abilities to make sense of quantities
Understanding and solving: Develop, demonstrate, and apply mathematical understanding through play, inquiry, and problem solving
Understanding and solving: Visualize to explore mathematical concepts
Understanding and solving: Develop and use multiple strategies to engage in problem solving
Communicating and representing: Communicate mathematical thinking in many ways
Communicating and representing: Use mathematical vocabulary and language to contribute to mathematical discussions
Communicating and representing: Explain and justify mathematical ideas and decisions
Communicating and representing: Represent mathematical ideas in concrete, pictorial, and symbolic forms
Connecting and reflecting: Reflect on mathematical thinking